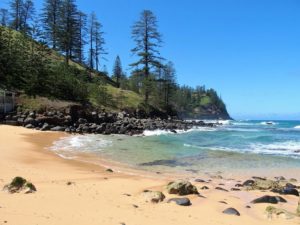 90 minutes' flight away from New Zealand lies Uncharted Football's second target, Norfolk Island. The island is home to a population of around 2000 people, but increasingly it is viewed as a holiday destination for Australians desiring an escape to somewhere with a slower pace of life. Norfolk has beautiful and unusual plant life and is surrounded by a stunning coastline.
Norfolk Island is an Australian external territory but is able to compete in certain sporting competitions as a nation in its own right, including 18 Commonwealth Games. The nation is currently joint 55th in the all-time Commonwealth medal table with a total of one, a bronze won in Women's Singles Bowls in 1994.
Contact with the general manager of Athletics Norfolk Island, Geoff Gardner, has informed us that football has been played on the island for many years, but this participation has been irregular and unstructured. This is due to a number of factors: the ageing population (as with many remote island, a large percentage of young islanders head to the mainland), competition from other sports and, crucially, a lack of access and encouragement. The island has one school with around 315 students. Football is said to be popular amongst the students and played during break and lunch times on the school grounds.
The reference to other sports is significant because, as with Niue, it suggests that islanders are keen to engage with sport if the right conditions are put in place to make it viable. Netball could be said to be popular on the island although teams have needed to be bolstered by male players due to a lack of eligible and keen team members.
 Rugby League, which 20 years ago was thriving with 3 senior teams on the island, now only exists as a junior sport due to a lack of players. It seems that people are still interested in watching rugby, but not currently in playing it. 
Norfolk Island's individual sports are relatively popular, for example athletics, lawn bowls, archery, tennis, and golf; these have the clear advantage of being able to run with fewer people involved. 
The challenge for us will be attempting to gather enough people together to form a successful and sustainable football team on the island, with a league seeming like a distant dream at the moment! However, there has previously been interest in football, and crucially younger people are playing recreationally; this suggests that perhaps more structured opportunities to play could be very well-received. Key figures from Norfolk Island's sporting world have given their approval to our plans to visit the island and conduct some football development research, so we look forward to getting there and examining the possibilities in more detail.